Rail Trail Tip # 2
Now you have clocked up a few 3-5 km cycles stretch it out a bit and do 2 or 3 bike rides a week of between 8-15km per ride. This will ensure your Glutus Maximus (Butt) will thank you for the effort you are putting in now, prior to your Rail Trail Experience.

Nothing worse on the Rail Trail than a sore butt, however this little tip will make sure the likelihood of that is virtually non-existant.

Good luck on your way to enjoying the Central Otago Rail Trail.

Look out for our next wonderful tip in the weeks to come and don't forget to get hold of us for any of your Rail Trail requirements!

Rail Trail Tip #1 for the New Season 2010/11
It's that time of year again - Daylight Savings has kicked in - and we once again welcome a new Otago Rail Trail season.

Plenty of Fun and/or Sun for all those lucky enough to be doing New Zealand's premier bike ride - is guaranteed.

For those of you looking at doing the Rail Trail this season remember it is easier if you do a bit of practice before hand.

That age old saying still rings true - "No Pain No Gain" and all that other stuff your Mums and Dads used to tell you (see they were right on the odd occasion !!!).

Even cycling a few minutes a day (3km-5km) in preparation can make all the difference.

Good luck in your preparations and if you need any help or are looking to hire a bike don't forget to give us a call for the best deals available on the Otago Rail Trail.



Otago Peninsula Top Cycling Destination In The World - Lonely Planet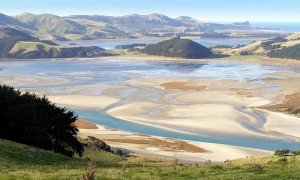 "Glowing recommendations from Lonely Planet single out the city as one of the best places in the world to cycle, watch birds and walk your dog.

Dunedin is the only New Zealand city to make the travel company's annual top 10 travel lists- and does so three times.

Otago Peninsula has been named as the top cycling destination in Lonely Planet' s Best in Travel 2010.

"Get ready for steep climbs, fast descents and the odd albatross to keep you company" the book notes.

Taking a breather on the route yesterday, Peter Hurring and Greg Lapwood, both of Dunedin, said they were not suprised by the recommendation.

"It is a bit of a hidden gem," Mr Hurring said.

Tourism Dunedin chief executive Hamish Saxton said the publicity was a "real feather in the cap for Dunedin" and the city could expect increased visitor numbers as a result."


What Was Said:
Top 10 Cycling Routes

Otago Peninsula ranks No 1, beating routes in Canada, Italy, Australia, France and the United States.

"The serpentine route twists pleasantly along the shore, providing tremendous ocean views, and the terrain is made for cycling."
Excerpt from the Otago Daily Times (published 2 November 2009) and written by Hamish McNeilly


Plenty On Their Bikes As Rail Trail Use Rises
By Diane Brown on Sat, 10 Jan 2009
The Regions: Central Otago
Source: Otago Daily Times

International visitors and excellent accommodation have combined to make this season a great one so far for Otago Central Rail Trail operators.
While no-one has exact figures for the trail use, the latest available official figures from the Department of Conservation show 10,200 people tripped the counter for the whole trail to the end of December 2008.

Counters are placed on three remote parts of the trail used mainly by people who do the whole trail.

They show whole trail use has increased by a third from 6310 in 2003, when they were first installed.

The Poolburn Gorge, which has the highest use, as people enjoy riding a short part of the trail through two tunnels and over two viaducts, had 16,153 people in 2007 (2008 figures are not yet available).

That has more than doubled from the 7661 people in 2003.

While operators would not divulge their figures, they all agreed forward bookings for the summer months were higher than last year.

"Forward bookings at the beginning of December were just on a par with last year, and by the end of December they were well ahead of the previous year," Trail Journeys manager Shayne O'Connor, of Clyde, said.

The average age of clients booking was 45-plus.

High winds on the trail caused a few problems earlier in the season but there had been few issues since then and everyone seemed to be enjoying themselves.

More accommodation was appearing on the trail, most offering ensuites and kitchens and riders were snapping it up, Mr O'Connor said.

However, while extra accommodation was great for the busy time of the year, it meant leaner times for the shoulder season for some providers, he said.

Altitude Adventures owner Phil Oliver said his company had a great Christmas season, with many casual tourists adding to the forward bookings on the trail.

Australian tourists were a big market for him and he had a booking yesterday from seven people who had flown in to ride the trail.

"With the Australian market, it is just as easy to fly here as it is to travel internally.Australia will continue to be one of our biggest markets," he said.

His clientele included mostly families with teenage children over the holidays.

February, March and April were looking "pretty good as well", he said.

Janet and Richard Parker set up their Ranfurly bike hire four years ago and they are now in their second year of operating Otago Rail Trail Bookings, from Ranfurly.

Mrs Parker had seen a continual climb in business and forward bookings were looking great, she said.

"The rail trail has saved all these small places [Oturehua, Wedderburn, Lauder, Waipiata, and Middlemarch].

"Who would have thought we would have three new eating places here in Ranfurly opening in the past year?"

Motels had also been built, one in Ranfurly and one in Naseby.

At the eastern end of the 150km trail at Middlemarch, Cycle Surgery and Rail Trail Services owner Dave Thompson is "pretty happy with everything".

"We have had a lot of Otago-ites riding the trail this year . . . so that's a good thing."

The new restaurant Quench at Middlemarch was doing very well as a result of the trail.

"We are getting a lot more international travellers as well and it's nice to see the international scene making a difference on the trail.

"They are saying they are very happy with the accommodation along the way, so that's a good sign as well."

His company had upgraded motels at Middlemarch and built new motels at Waipiata.




Otago Rail Trail Set To Explode
Numbers on the Otago Rail Trail are expected to increase as long haul holidays for New Zealanders and Australians become less affordable due to the global credit crunch and higher taxes on fuel emissions.

Figures mooted suggest that the popularity of the Otago Rail Trail could rise by up to 30% on previous years with some operators expecting a mini boom along the trail.

Sectors set to benefit from this increase are mainly from the hospitality industry but is it widely acknowledged that any extra monies bought into the region do go a long way to helping all other sectors in the community and this news is being enthusiastically welcomed by locals.