Glow Worm Tours - Dunedin - New Zealand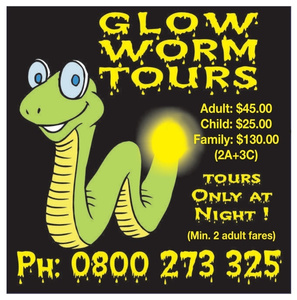 Glow Worm Tours
Welcome to without doubt the best Glow Worm viewing experience in New Zealand.
Pick-up is from your centrally located Dunedin accommodation or from the Octagon.

This tour is only at night and, due to changing hours of daylight, departure times will vary throughout the year, so you will need to call us to find out when departure times are.

Your tour starts with an informative and fun tour of Dunedin city and its premier sites including Baldwin Street - The World's Steepest Street (Gradient 1: 2.86m) - before going on to see the magical Glow Worms.

A short 10-15 minute minute walk through bush in the dark (torches are provided) takes us to where you will see unparalleled viewing of the Glow Worms in their natural habitat - threads and all.

Occasionally we are even lucky enough to see live Possums at play in the trees.

We then return you to your accommodation, via Highgate, with spectacular views of Dunedin under lights.

Important Information:

BRING:
Suitable footwear (the track can be muddy and slippery)
Warm clothing in case the weather changes
A drink
A moderate level of fitness is required.

It recommended that you take this tour on your first night in Dunedin as it will give you plenty of ideas on what to do for the rest of your stay as well as giving you a comprehensive overview of Dunedin .

Bookings are essential as groups are strictly limited in size to maximise viewing pleasure.

These tours last approximately 2 hours and a minimum of 2 Adult fares is required.

Special tours are available by arrangement throughout the year.

Seasons Costs 2017/18: $ 45.00 pp Adult
$ 25.00 per school aged child
$130.00 Family Pass (2 Adults 3 Children)

Email: glowworms@xtra.co.nz for more information or to make a booking or Contact Otago Cycle Hire

Some Recent Feedback:

"Wow, Its just like Christmas." - Amy Sierpina - Connecticut, USA - April 2010
"Just Amazing!" - Collette Spagnalo - New York, USA - April 2010
"Better than the Caves. You Can See the Glow Worms, and the smiles on my girls faces. Thank you so much. They will remember this forever." - Hugo - Netherlands - February 2010
"The Lord of the Rings meets Santa Claus." - Martha - Denmark - January 2010
"Funny and Informative" - Aaron & Veronica - Townsville, Qld, Australia - January 2010