Otago Peninsula Top Cycling Destination In The World - Lonely Planet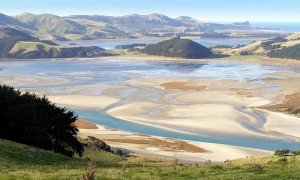 "Glowing recommendations from Lonely Planet single out the city as one of the best places in the world to cycle, watch birds and walk your dog.

Dunedin is the only New Zealand city to make the travel company's annual top 10 travel lists- and does so three times.

Otago Peninsula has been named as the top cycling destination in Lonely Planet' s Best in Travel 2010.

"Get ready for steep climbs, fast descents and the odd albatross to keep you company" the book notes.

Taking a breather on the route yesterday, Peter Hurring and Greg Lapwood, both of Dunedin, said they were not suprised by the recommendation.

"It is a bit of a hidden gem," Mr Hurring said.

Tourism Dunedin chief executive Hamish Saxton said the publicity was a "real feather in the cap for Dunedin" and the city could expect increased visitor numbers as a result."


What Was Said:
Top 10 Cycling Routes

Otago Peninsula ranks No 1, beating routes in Canada, Italy, Australia, France and the United States.

"The serpentine route twists pleasantly along the shore, providing tremendous ocean views, and the terrain is made for cycling."
Excerpt from the Otago Daily Times (published 2 November 2009) and written by Hamish McNeilly